Lingerie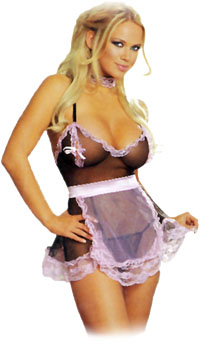 Whether it's a night on the town or spicing things up for your partner the variety of lingerie and club wear will have you feeling and looking sexy. If you want to tease or seduce we have the outfits for you. Treat yourself to some sassy nightwear. Rest assured, you will mesmerize whoever you are trying to please.
Our clerks are very knowledgeable and are very eager to help you find exactly what you are looking for in a professional manner. Check out clothing from major companies like Dreamgirl, Electric, Seven til Midnight, and Enchantress. The outfits we carry are One Size Fits Most (90-160lbs) and One Size Fits Most Queens ( 165-275lbs), so slip into something a little more provocative today.
Dreamgirl
Dreamgirl offers alluring fashion for all ages and sizes. It is recognized as a leading international manufacturer and marketer of contemporary costumes and enticing sleepwear. There are over 100 different outfits in stock today! Including some attire for males. Romance is just a satin corset away.
Electric
"Because Sexy Never Goes Out of Style!"
Electric Lingerie strives to provide the world's best quality and sexiest lingerie and they are well on their way. Distributing outfits to over 20 different countries around the world Electric has fantastic bras, thongs, teddies, panties, and baby dolls to choose from. Find everything from cute to provocative with Electric Lingerie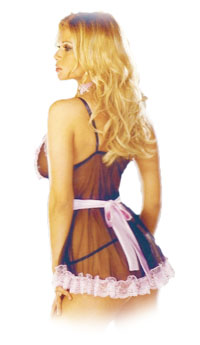 Seven 'til Midnight
Looking for a naughty nurse outfit? Seven til Midnight has great adult costumes. You will be satisfied with a wide diversity of lingerie including bras, baby dolls, cami sets, fantasy costumes, garters, skirts, playsuits, and teddies. The colors are bold and the designs are flirty. Katy Perry, Kim Karadashian and Denise Richards are just a few hot celebrities that wear Seven til Midnight. So don't wait any longer, slip into something silky and have your special someone shudder with anticipation.
Enchantress
Enchantress makes some of the best playful ties on the market. They are stretchy, comfortable and can be worn as accessories. They are well made and colorful. Purchase a six piece sets that contains wrist cuffs, ankle cuffs, satin ties plus a sexy "G" and lacy choker! Enchant your lover as you get ready for some light bondage with lots of eye candy. The Enchantress merchandise is ideal for couples that enjoys the thrill of role-play.